Small Business Solutions
Webinars, webcasting and virtual events are one of the most powerful and cost-effective ways to demonstrate your capabilities to potential customers, and quickly drive leads to your sales team.
Use Onstream's technology to host a webinar, multi-day event, product launch or permanent marketplace to showcase your company message, products or services. With our flexible pricing plans, Onstream Media is a cost-effective way for small businesses to communicate online, with rich media such as streaming video, audio and graphics and presentations. Dollar for dollar, there's no better alternative to fill your new business pipeline, qualify prospects and accelerate your sales cycle.

Onstream Makes it Happen All Around YOUR Company
Use Onstream technology to create, access, manage and present the most innovative and timely information about your company's affairs, reinforcing your brand with the customers who matter.
Sales — prospecting, forecasting, account calls, presentations & team meetings
Business Development — partner and alliance co-marketing and co-selling
Marketing — lead generation, collaboration, communications and branding
Customer Service & e-Learning — customer communication, help, support and training
Human Resources & Training — classroom creation, training and compliance
Here is as an example: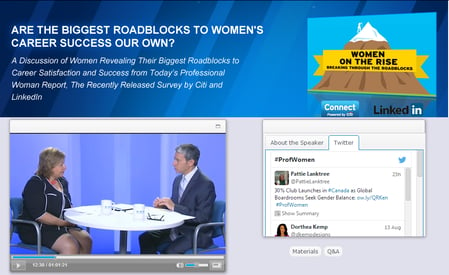 Onstream Media Corporation (OTC: ONSM), is a leading online service provider of live and on-demand corporate audio and web communications, virtual event technology, and social media marketing. Onstream Media's innovative Digital Media Services Platform (DMSP) provides customers with cost effective tools for encoding, managing, indexing, and publishing content via the Internet. The company's MarketPlace365® solution enables publishers, associations, tradeshow promoters and entrepreneurs to rapidly and cost effectively self deploy their own online virtual marketplaces. In addition, Onstream Media provides live and on-demand webcasting, webinars, web and audio conferencing services. To date, almost half of the Fortune 1000 companies and 78% of the Fortune 100 CEOs and CFOs have used Onstream Media's services. Select Onstream Media customers include AAA, Dell, Disney, Georgetown University, National Press Club, PR Newswire, Shareholder.com (NASDAQ), Sony Pictures, and the U.S. Government. Onstream Media's strategic relationships include Akamai, BT Conferencing, and Trade Show News Network (TSNN). For more information, visit Onstream Media at http://www.onstreammedia.com or call 954-917-6655.
Website | Contact Us | Blog